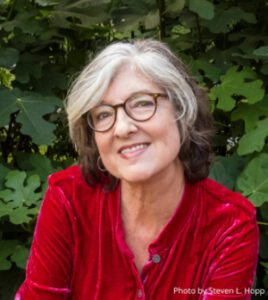 Mercer University's Spencer B. King Jr. Center for Southern Studies
will award the 2021 Thomas Robinson Prize
 for Southern Literature to novelist, essayist and poet Barbara Kingsolver.
The prize will be presented April 17 at 1 p.m. in a livestreamed ceremony at kingcenter.mercer.edu.
Kingsolver was born in 1955 and grew up in rural Kentucky. She earned degrees in biology from DePauw University and the University of Arizona. She has lived in England, France and the Canary Islands and has worked in Europe, Africa, Asia, Mexico and South America. She spent two decades in Tucson, Arizona, before moving to southwestern Virginia where she currently resides.
Kingsolver is the author of 15 books translated into more than two dozen languages and adopted into the core literature curriculum in high schools and colleges throughout the nation. She served as editor for Best American Short Stories 2001, contributed to more than 50 literary anthologies, and her reviews and articles have appeared in most major U.S. newspapers and magazines.
The Poisonwood Bible was a finalist for the Pulitzer Prize and the Orange Prize and won the national book award of South Africa before being named an Oprah Book Club selection. Animal, Vegetable, Miracle won numerous prizes including the James Beard award. The Lacuna won Britain's prestigious Orange Prize for Fiction in 2010.
Kingsolver was named one the most important writers of the 20th century by Writers Digest. In 2000, she received the National Humanities Medal, the nation's highest honor for service through the arts. She has received multiple awards from the American Booksellers Association and the American Library Association, among many others. In 2011, she was awarded the Dayton Literary Peace Prize.
Kingsolver established the Bellwether Prize for Fiction, the nation's largest prize for an unpublished first novel, which since 1998 has helped to establish the careers of more than a half-dozen new literary voices. Through a recent agreement, the prize is now known as the PEN/Bellwether Prize for Socially Engaged Fiction.
About the prize

The Thomas Robinson Prize, previously known as the Sidney Lanier Prize, was first awarded in 2012. The prize is awarded to writers who have engaged and extended the long, often complicated, tradition of writing about the South.
The selection committee for the Thomas Robinson Prize includes Mercer University professors, eminent scholars of Southern literature, and members of the Macon community. In addition to Dr. David A. Davis, the committee includes:
Bob Brinkmeyer, Emily Brown Jefferies Professor of English at the University of South Carolina
Sharon Colley, professor of English at Middle Georgia State University
Sarah Gardner, Distinguished University Professor of history at Mercer University
Trudier Harris, Distinguished Research Professor of English at the University of Alabama
Barbara Ladd, professor of English at Emory University
John Wharton Lowe, Barbara Methvin Professor of English at the University of Georgia
Judson Mitcham, former Georgia Poet Laureate
Chelsea Rathburn, Georgia Poet Laureate
Pam Thomasson, past president of Historic Macon Foundation
Dr. Joe Sam Robinson Jr., a widely respected neurosurgeon, and his wife, Betsy, of Macon, made a gift to assist Mercer in meeting a National Endowment for the Humanities Challenge Grant during the 2016-17 reporting year. Their financial commitment created a new endowment, the Thomas McRae Hamilton Robinson Endowment, within the Spencer B. King, Jr. Center for Southern Studies that supports a public reading by the Thomas Robinson Prize winner at the annual presentation of the prize. The endowment honors the memory of their son, Tommy Robinson, and significantly enhances literary programming in Middle Georgia by underwriting the event.
Past winners
2020 — Ron Rash
2019 — Fred Chappell
2018 — Natasha Trethewey
2017 — Ellen Gilchrist
2016 — Wendell Berry
2015 — Yusef Komunyakaa
2014 — Elizabeth Spencer
2013 — Lee Smith
2012 — Ernest Gaines
Spencer B. King, Jr., Creative Writing Scholarships
Mercer also awards the Spencer B. King, Jr., Creative Writing Scholarships. High school juniors with high aptitude for writing may compete for the scholarships, and winners will receive up to $2,000 per year toward the cost of tuition at Mercer. To be eligible, students must complete an application and submit either a work of short fiction of no more than 700 words or two poems totaling no more than 700 words. For more information, contact the Office of Admissions at admissions@mercer.edu.